RAD Board Approves $3.8 Million to Five Major Library Projects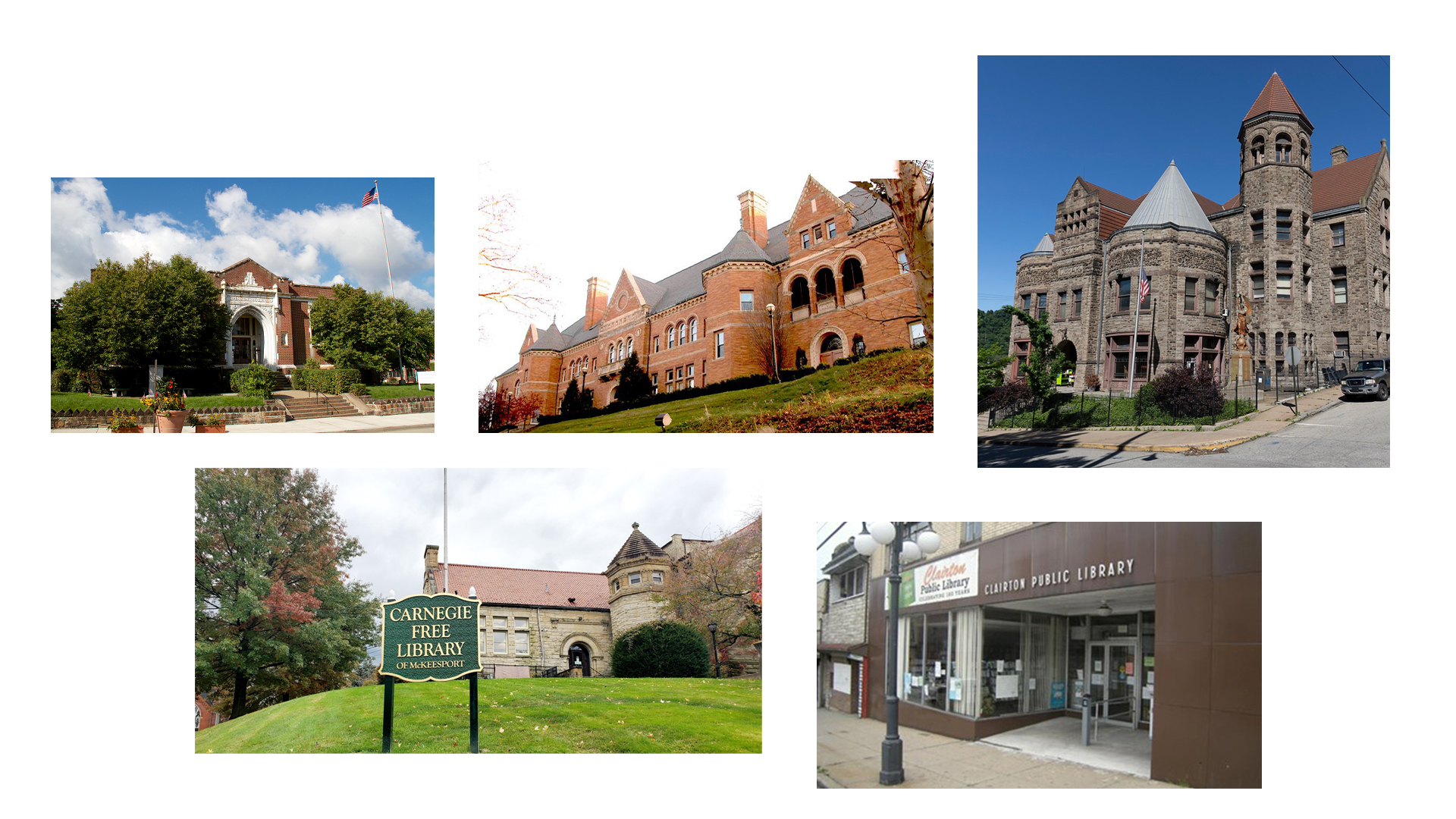 Allegheny County Library Association (ACLA)
22 Wabash Street, Suite 202 Pittsburgh, PA 15220
(412) 921-1123
aclalibraries.org
Allegheny County Library Association (ACLA)
22 Wabash Street, Suite 202 Pittsburgh, PA 15220
(412) 921-1123
aclalibraries.org
First-ever Transformative Community Library Fund grants will provide lasting change for libraries throughout the Mon Valley
Millions of dollars will be invested in five Allegheny County public libraries in a first-of-their-kind series of grants.
The Board of the Allegheny Regional Asset District (RAD) voted Thursday to grant $3.8 million to five transformative projects, all of which will go to libraries serving communities in the Mon Valley.
"We know today's libraries go well beyond the bookstacks," said RAD board chair Daniel J. Griffin. "A modern library is a community center, a senior center, a technology center, a resume center, and much more. These grants will ensure all of Allegheny County's libraries are equipped to serve everyone."
RAD is the largest single funder of libraries in Allegheny County, providing nearly $39 million in 2023 alone. The latest grants – from RAD's Transformative Community Library Fund – will supplement that annual funding. The RAD Board created the fund to support changemaking proposals at libraries that provide essential services and spaces for their communities.
The libraries that will receive this first round of transformative grants are:
Braddock Carnegie Library – $1,250,000 toward repair and re-construction of the exterior masonry and vestibule in America's first Carnegie Library


Carnegie Free Library of Swissvale – $800,000 toward a major capital project to make the library fully accessible for the first time


Carnegie Library of McKeesport – $750,000 as a part of a phased-in renovation to turn the uppermost floor from storage space to public space for community groups


Clairton Public Library – $500,000 to help move the library to new, purpose-built space on the ground floor of the newly-renovated Clairton Inn Apartments


Carnegie Library of Homestead – $500,000 toward a major capital project to make the historic library building more accessible and increase programming space
All five projects have already secured grants from other governmental and foundational sources, and all are expected to see construction underway by the end of 2023. Each project will improve and enhance the spaces that ensure that a local library can be the hub of its community.
"We are absolutely thrilled to be investing in these libraries," said RAD executive director Rich Hudic. "Library employees work so hard to provide for the people in their communities, and we have been diligent about making sure that RAD funds go to projects that will be truly transformational."
The grant approvals mark a banner day in a long process for RAD and the Allegheny County Library Association (ACLA). RAD, ACLA and library leaders have been engaged in more than a year of discussions around enhancing the library experience and building capacity to better serve patrons for years to come.
"We hope these grants will continue to motivate and inspire library directors serving patrons that rely on the vital resources inside the four walls of the library," said RAD program officer Margaret Pike Iddings. "It is our hope that, once completed, we will see these libraries boost the quality of life for their patrons individually and community collectively."
RAD's work is not done yet. The Transformative Community Library Fund was initially approved in 2022, with a $5 million initial outlay, to guide four years of investments in Allegheny County's public libraries. RAD staff and the RAD Board's library committee will continue to discuss proposals with library leaders for additional projects.
More information is provided below on the five initial grants.
BRADDOCK ($1.25 MILLION FROM RAD)
The first Carnegie Library, built in the 1880s, will be updated to meet the needs of the 2020s. (Image from Braddock Carnegie Library Associaton's capital campaign. See more here.)
The largest Transformative Community Library Fund grant will go to the largest project – a long overdue renovation of Andrew Carnegie's first free library in the United States.
The Braddock Carnegie Library is nearing the end of an $18 million capital campaign to fund projects that will open up the historic building – which is currently under-utilized – by increasing usable space by 50% and creating 100% accessibility. New, flexible spaces for programming will be made available for community groups (including partners like Braddock Youth Project, Braddock Art Makers, Job Corps, Rainbow Kitchen and more).
"More than 15,000 people in the five Mon Valley communities served by BCLA depend on the library as a safe place for civic and community gatherings, for critically needed after school programs, for access to the internet, and for so much more," wrote Sen. John Fetterman (D) and his wife Gisele Fetterman (at the time, Lt. Governor and Second Lady of Pennsylvania) in support of the project. "The Braddock Carnegie Library has been and continues to be the catalyst for forward-looking investment and opportunity.
RAD's support will go toward rehabilitating the skeleton of the library building by funding repairs to the exterior masonry, as well as improvements to the vestibule. The physical improvements will open up opportunities for the library to meet the needs of the community into the future.
SWISSVALE ($800,000 FROM RAD)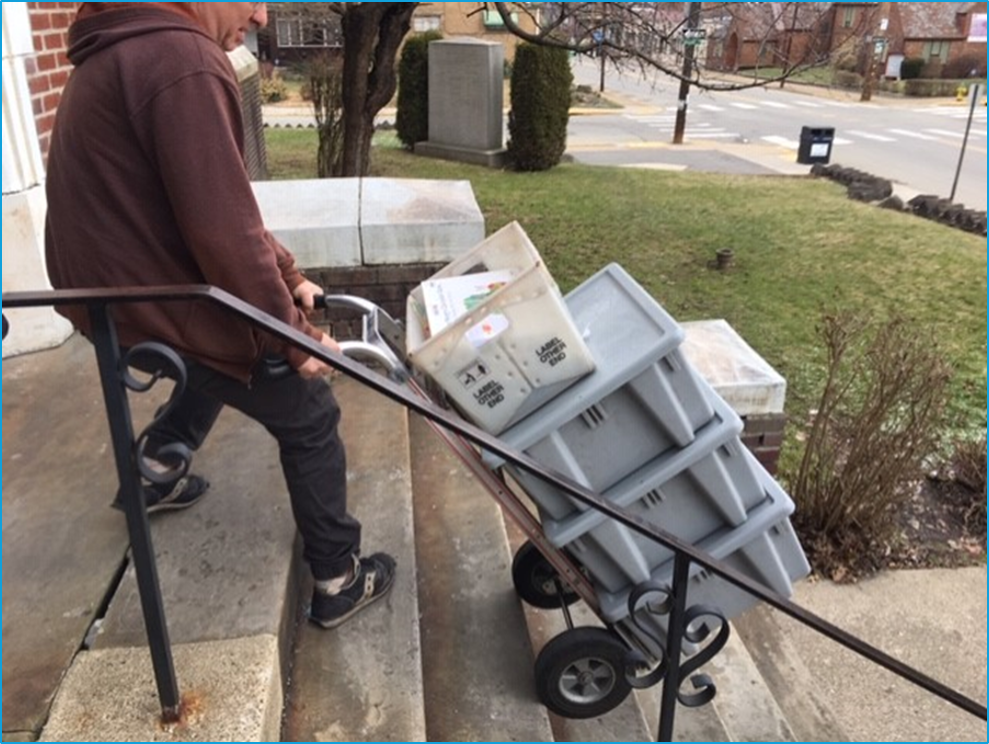 A lack of step-free access to the Carnegie Free Library of Swissvale causes issues for patrons -- and workers. (Image from Swissvale's presentation to the RAD Board)
Viewed from the corner of McClure and Monongahela Avenues, the built-in-1918 Carnegie Free Library of Swissvale looks terrific – but the exterior hides the truth inside.
"[The library] is inaccessible to many, unattractive and uninviting to others, and ill-suited for 21st-century library services," wrote library director Kate Coluccio in the grant application.
Patrons who cannot use stairs cannot access the library – there is no elevator or ramp – and others are faced with crowded spaces, aging HVAC systems and a lack of public restrooms on the upper level.
A multi-million-dollar renovation will rectify many of these problems. A new elevator tower and entrance area will be provided, building systems replaced, new restrooms added, and the floor plan will be opened up to create a new classroom and multi-purpose space.
Swissvale's application noted that renovation projects completed at Carnegie Library of Pittsburgh locations since 2010 resulted in a 10%-to-25% increase in circulation and visitors in the first year post-renovation – even at smaller branches.
McKEESPORT ($750,000 FROM RAD)
A RAD-funded renovation will provide more space for community events and meetings at the Carnegie Library of McKeesport (Image from Swissvale's presentation to the RAD Board)
The stately Carnegie Library of McKeesport is bursting at the seams with community events. From after-school activities to cooking classes in "Grandma's Kitchen," the library simply needs more usable space.
The library's uppermost floor will provide that space, after a renovation converts it from storage to a publicly accessible area. Library patrons and civic organizations will be able to meet in newly-created rooms without taking over the Children's Room – typically the only space now available for meetings.
"Opening one third of the library's physical space will allow them to increase programming presence and help rejuvenate the neighborhood by welcoming larger outside groups to hold meetings for the public good, be it civic organizations, health and wellness programs, one-on-one tutoring, social services, or cultural enrichment events," wrote State Sen. Jim Brewster (D-McKeesport) in a letter supporting the project.
CLAIRTON ($500,000 FROM RAD)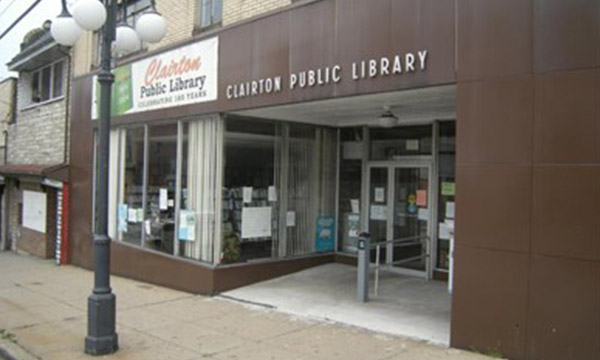 The current home of Clairton's library is beyond its useful life, and library leaders are preparing to move into a new, purpose-built space across the street.
The Clairton Public Library is ready to make a move that is a small step in distance (the old library and the future library are on opposite blocks of Miller Avenue) but a giant leap for patrons.
"Our current library is very outdated and run down as well as physically deteriorating inside and out," said Clairton Public Library executive director Emma J. Anderson. "We hope to generate a reputation extending to outside communities that Clairton Library is the place to be!"

Anderson notes that the current library on Miller Avenue is "in a dilapidated building" with no heating, no cooling and many spaces that are not ADA accessible. The new, 6,000-square-foot space across the street was already reserved for the library by its developers, the Mon Valley Initiative. It will be fully ADA compliant with a dedicated children's room, teen room, two public meeting rooms and more spaces for reading and computer use.

"The new library will be an anchor in the downtown Clairton community," said Anderson. "Having a new library will go a long way in saying to our community that 'you are worth it.'"
HOMESTEAD ($500,000 FROM RAD)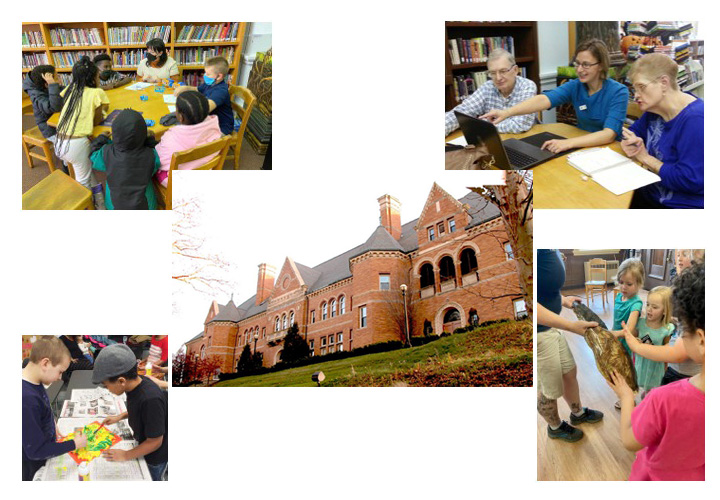 RAD's $500,000 grant to the Carnegie Library of Homestead will match a previously-secured contribution from the National Endowment for the Humanities. (Images from Homestead's presentation to the RAD Board)
Serving the Steel Valley has been the Carnegie Library of Homestead's mission since 1898. But after 125 years, the library space has reached some of its limits as a community hub – growing 200% in the last decade. Youth and adult programs are at capacity due to the lack of available, modern programming space.
Homestead's project will change the layout of the historic library to add sensory friendly and private rooms, expand programs and services by 25%, and make the 19th-century building air-conditioned for the first time – a necessity to keep programs running through the summer.